Six million printer cartridges recycled
Digital print businesses are increasingly greening up the industry's image by recycling their used cartridges, with six million collected by Canon customers alone.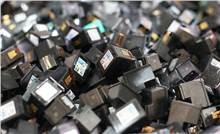 Canon professional print senior category manager Paul Whitehead says production print customers are able to arrange regular pickups from their premises at no charge, and be guaranteed that they will be recycled with zero waste to landfill.
He says all toner and ink bottles and cartridges are collected, though some Arizona ink and waste ink products need to be handled separately as industrial waste, and says Canon works with its customers to ensure that the appropriate arrangements are in place.
"Printers can easily reduce their impact on the environment and contribute not only to their sustainability goals, but also to those of their customers," he says.
"With the joint efforts of our customers, we have significantly reduced our impact on the environment and helped them to reduce theirs."
The manufacturer is a founding member of the Cartridges 4 Planet Ark project, in partnership with Planet Ark and Close the Loop, and says the six million cartridges saved from landfill in the past 10 years weigh about 1700 tonnes.
Whitehead says a small but growing number of its commercial print customers are involved, and those with environmentally responsible customers have been early adopters.
"With increased awareness of the program and increased demand for all businesses to reduce their impact on the environment, we can only see this number growing," he says.
"There are two main drivers for commercial printers to implement more environmentally sustainable print solutions: The cost of implementing a more environmentally sustainable print solution and the demand for more environmentally sustainable print services.
"As more and more businesses are taking proactive steps to reduce their environmental impact and make a positive difference, this demand is passed on to their commercial print providers.
Whitehead says the program also helps drive a positive change to the way printing is viewed and approached. Planet Ark chief executive Paul Klymenko says: "Throwing cartridges into landfill represents an incredible waste of resources and Australian individuals and businesses have shown a desire to do the right thing."
"This program, being free, easily accessible and responsible means they can ensure the resources in the used cartridges get another life," he says.
The program has recycled 25 million cartridges in Australia since it began. As well as toner powder, printer cartridges contain valuable materials such as ferrous metal, stainless steel, aluminium, ink, and many types of plastics – all of which can be recycled into asphalt, pens, rulers, park benches, fencing, and signs.